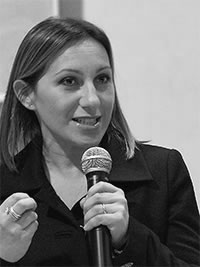 Born in Fano 1970, Raffaella gained an A Level in applied art (at the Institute of Art, Fano), and the diploma of the Academy of Fine Arts in Urbino (Academic year '92/93).
Raffaella has participated in numerous art exhibitions, including:
Collective art exhibition, held at "Costarella" in Numana, Ancona ('93)
TWO WORLDS Festival at Spoleto '94
Personal art exhibition held at the "Sala Picasso" Gallery, Lido degli Estensi, Ferrara ('95)
Fifth national contemporary art prize, held at Castello di Mesola, Ferrara ('96) at which Raffaella received recognition of artistic excellence
Collective art exhibition "Art Antibes", held at Chantier Naval Opéra, Antibes (Côte d'Azur '97)
International exhibition of contemporary painting (Exhibition Centre Bologna '98)
Collective art exhibition, held at the "Le Vic" Art Gallery, Barcelona (Spain '98/99)
Festival of Mini-frameworks and Small Sculptures (2002): Bologna (Europart Gallery), Barcelona (Acea Gallery), and Paris (Atelier Gustave)
Personal art exhibition, held at the Europart Gallery, Bologna (2002)
Locally, Raffaella has participated in several Contemporary Art Shows, including:
"Art in the hills", held at the Community Theatre of Montemaggiore al Metauro ('96)
"Bucci Exhibition", held at Piazzetta di via Giganti, Fossombrone ('96)
II Edition of the collective art exhibition of Montefelcino, pertaining to the Italian Association: "Amici del Presepe" ('96)
"Accolta dei Quindici", Luigi Rossi School of Fano (50th and 51st edition; years 1997/1998)
collective art exhibition "Quando l'Arte è Donna" ("when art is a woman"), held at the Sala Consiglio Montana, Fossombrone ('98)
Personal art exhibition, held at the Rossini Theatre of Pesaro, inside the Concert Season of the Symphony Orchestra G.Rossini (2002)
"Meeting for Coffee", personal art exhibition, held at Caffè del Pasticciere in Fano (2002/2003)
"Art in the cellar", ex-primary school Santa Maria dell'Arzilla (2003)
Retrospective: theatrical performance linked to the paintings exhibited. "We are walking in the clouds" with texts by Leonardo Sinisgalli; in collaboration with architect, Mirko Strika for the design, and poet, Serse Cardellini for poems with respect to the paintings
Personal art exhibition, held at Theatre Tiberini of S.Lorenzo in Campo, within the exhibition "Theatres in Concert" (2003)
Collective art exhibition, held at "Pesce Azzurro", Fano (2002/'03/'04)
Collective art exhibition "Mare in Rosa", with commentary by Fanese historian, Franco Battistelli. Exhibition held at "Pesce Azzurro" (2003)
Painting exhibition "Note di Mezza Estate", held at Trionfo Theatre in Cartoceto di Pesaro (2009)
On 15/11/1996 Raffaella participated in the program "Tandem" – Cultural room for discussion about art, on R.T.V. of S.Marino – as an emerging painter in contemporary art. The interview was carried out by Rai journalist, Simone Socionovo.
Raffaella has executed various "Trompe l'oeil" in different cities in both the Marche and Emilia Romagna regions, (Fano ('97), Montemaggiore al Metauro ('97), Cattolica ('98), Rimini ('99).
There is a permanent exhibition of Raffaella's painting, La Sorgente (80×180), at TDA Informatica in Pesaro (2002).
One piece of her artwork, La Morale (oil on plywood 400×165), mentioned in various reviews, was donated to the Church di Cario in Tarugo (2004).
Raffaella has illustrated a book for children, named "The Magic of the grain" (la magia del grano). The project was sponsored by the municipality of Pesaro, Monteciccardo, and Sant'Angelo in Lizzola, for the Pesaro and Urbino province (2006).
Some of her artwork has been used as the cover image for various book, including, the philosophical yearbook by Thauma Edizioni (2008) with whom Raffaella collaborated.
Two of Rafaella's paintings were selected to appear as cover image of the CD "Miraggi" of the band "Officina Della Musica" from Fano (2011).
The piece 'Ascesi' was published in the book 'Dededicato a noi. Ritorno alla vita' (Dedicated to us. Returning to life.) of Francesco Bardi, Memorial Edition, 2013
Raffaella has organized and carried out various Art Workshops for children (the last was in 2010 in collaboration with the Cooperative "Domino" of Pesaro).
Recognition: various mentions, interviews and reviews for artistic merit, both in Italy and internationally.
Raffaella's artwork has been exhibited in:
Galleria 5 – 5 Place de la Maire – 06570 St.Paul De Vence – Cote d'Azur – France
Gallery of Malatestian art – Via G. Bruno, 29 – Rimini, Italy
Gallery Picasso Room, c/o Europ'Art Group – v.le Pascoli, 27 – Lido degli Estensi, Italy
Art Gallery Le Vic – c/Le Vic, 8 – Barcelona- Spain
Associate and member of:
EuropArt Group- Bologna, Italy
Asociaciòn de Artistas Plàsticos "Goya-Aragon", Zaragoza – Spain
"Espai Vaho", Leonardo da Vinci, Academia de Arte, Barcellona – Spain
Asociaciòn Artistas Plasticòs. Teruel – Spain
Asociaciòn Artistas Plasticòs. Burgos – Spain
Asociaciòn Artesania Cultural, Madrid -Spain
ACEA'S, Promocion d' Artistas, Barcellona -Spain
Circolo Artistico "Mario Ferrari", Acqui Terme, Italy
Asociaciòn Artistas "Proyecto Horizontal", La Habana -Cuba
Centre of Modern Art "Krasny Ugol", Novosibirsk, Russia
Plàstica Latina Internacional "Aplich", Santiago, Chile